Version: 4.2.0
Fuzzy RTOS Installation and upgrade
When we ship RTOS to you with an IPC of our own, it will have an RTOS version already installed, but if you have your own hardware or if you want to update your RTOS version then you will need to install a new version on the IPC.
Prerequisites​
You will need a USB flash drive with at least 4GB of storage..
Preparing the flash drive​
We recommend using balena.etcher, but any flash tool should suffice. Here's what the interface looks like:
To load the zip archive, you have two options. You can either drag and drop it into the app, or select Flash from file and manually select it:
The next step is to select a USB stick to flash. Click on Select targetto choose from the list of devices on your computer:
Once the image is loaded and the USB stick is selected, the flash process can be started: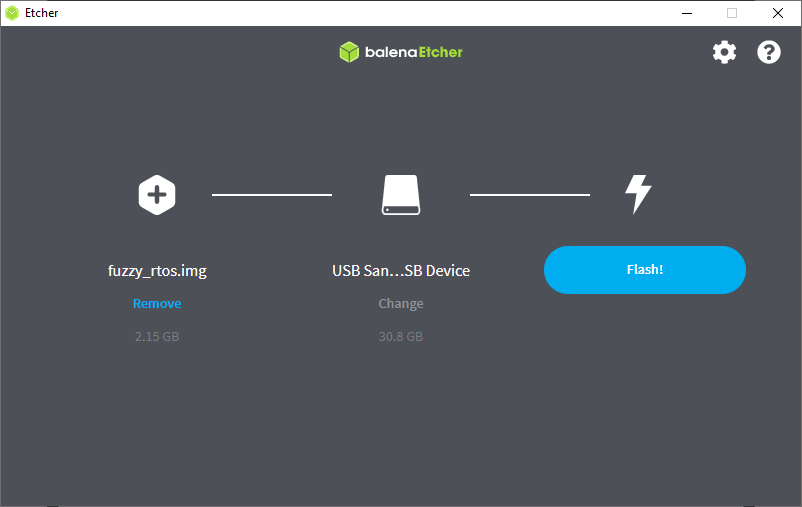 The process takes a few minutes to complete. Windows may display some messages during this time:
You can safely ignore them.
Upgrading the firmware​
First step: power off RTOS​
The preferred method is to press the power button and wait a few seconds. Once all the LEDs are off, you can proceed to the next step. Alternatively, cleanly shutting down the power will also work.
Second step: upgrade the system​
To upgrade your system, plug the USB drive that you previously flashed into one of the USB ports (preferably USB3, noticeable by the blue ports). Then, boot the system by pressing the power button or restoring power. The process typically takes a few minutes. The LEDs are expected to blink during the upgrade:
OnLogic Karbon4x0: All 4 user LEDs.
Siemens SIMATIC: The maintenance LED. If the system quickly shuts down, please check that the image is tailored for this actual system. For example, ensure that you're not trying to install a SIMATIC image on a Karbon4x0. Once the upgrade completes, the system will shut itself down.
Third step: post-upgrade​
With the system powered down, remove the USB stick and boot it back up again. Enjoy your new Fuzzy RTOS!